In the framework of the ValorInVitis project, 29 minor grape cultivars found in the "Colli Piacentini" wine district have been studied for three consecutive seasons to understand whether some of them can be re-evaluated in the light of new market requirements and climate change.
Among the white grape varieties studied, Bervedino, a variety native to the Val d'Arda area, stood out for its high and constant productivity, the result of sustained average bud fertility, even at the basal nodes. Barbesino and Molinelli are the two white grape varieties that have proved to be the most interesting considering the biochemical profile of the grapes. Both are in fact characterized by a very low ratio between sugars and organic acids, which makes them suitable for sparkling wines production, especially when compared with Ortrugo, the most used grape variety in the area for these types of wine production (Fig. 1). In particular, Barbesino, an ancient genotype from the Val Trebbia area, has shown a moderate accumulation of sugars, very similar to Ortrugo, but at the same time maintaining a titratable acidity that is always higher. Its potential use could therefore be that of the blend with Ortrugo, in order to improve the quality of the must in the hottest years.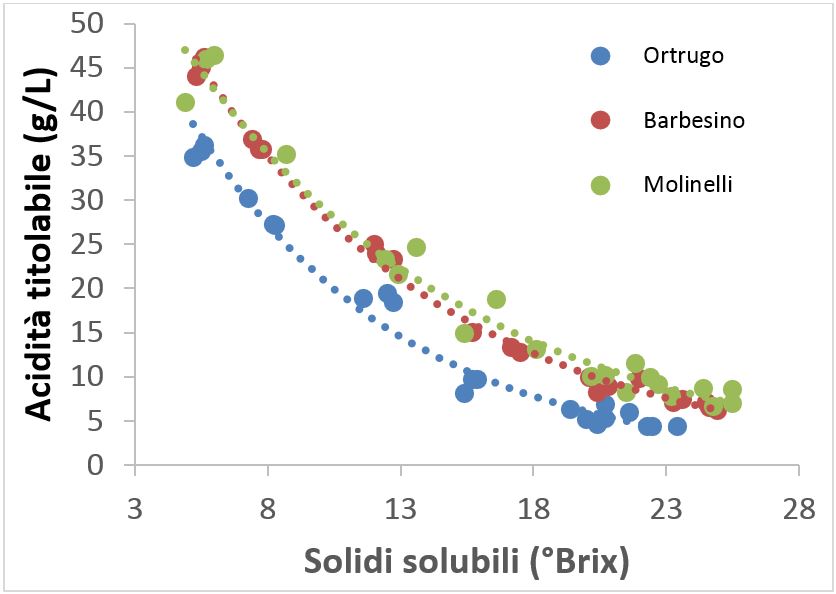 Fig.1 Correlation between solubale solids and titratable acidity in Ortrugo, Barbesino and Molinelli grapes during ripening in 2017
Among the red varieties, Ervi, Fruttano and Duraguzza stood out for their high capacity to accumulate anthocyanins (Fig.2). In particular, Ervi, a cross between the two red grape varieties used to produce Gutturnio DOC wines, demonstrated high bud fertility, high productivity and a gradual and constant accumulation of sugars in the grapes accompanied by a strong and important accumulation of phenolic compounds.
Fig.2 Correlation between soluble solids and total anthocyanins in Ervi, Fruttano and Duraguzza grapes during ripening in 2017
The project highlighted that some of the minor grape varieties of the Colli Piacentini wine district have the potential to improve the competitiveness of the area's wine production. Once the genetic identity of the accessions of interest has been clarified, placement in the national catalogue of vine varieties could pave the way for their use and diffusion.